Welcome to The Marimba Workshop
The MARIMBA is one of those truly African instruments which is easily accessible to anyone and everyone. Children from as young as five and six can play.
The MARIMBA provides the perfect accompaniment to dancing and singing as well as being a marvellous solo instrument. Together with a variety of percussion instruments the MARIMBA BAND can play anything from traditional African, township jazz, pop, classical music and everything in-between!
The beauty of this instrument is that NO previous music knowledge is necessary and within a short space of time groups of learners are playing together like seasoned musicians. The instrument sells itself! Every learner exposed to the instrument wants to play, wants to learn! What a joy for any educator and every performer!
LATEST NEWS
You can watch episodes of the Education Africa Virtual International Marimba and Steelpan Festival 2021 on Youtube. Congratulations to all the bands proudly using Marimba Workshop instruments!
Follow us on Facebook and subscribe to our YouTube channel.

OUR NEWSLETTERS
Our Latest Newsletter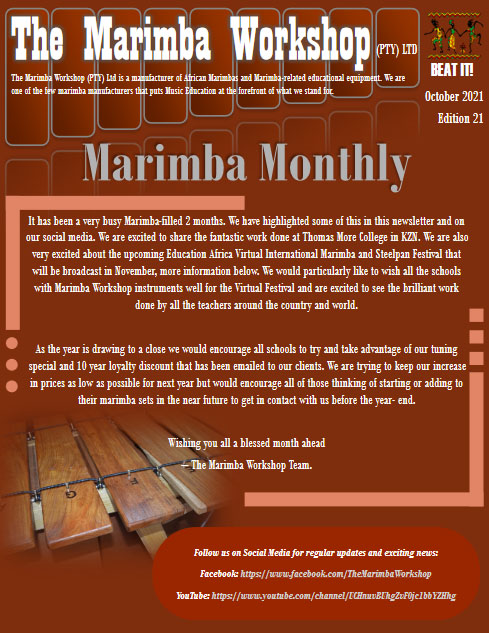 Previous Newsletters